Learn To Speak Danish – With the right training you can do it.

Whether you plan to move to another country for an

extended period of time or just going on vacation, it is always beneficial if you are able to communicate with the citizens of that country in their language. It doesn't have to be full conversations, but at least basic stuff like where to find stuff and introduce yourself for example. In Denmark, most of the population knows how to speak English, but you might run into the older generation and not be able to communicate with them. Learn to speak Danish will help you get the most out of your stay or visit.
Let me be honest with you, Danish is not an easy language to learn. It will take time and dedication. The best way to learn the language is, of course, to spend an extended time in the country and be forced to use it everyday. That is kind of what happened to me when I moved to the states. I had a basic knowledge of English from what I was taught when I went to school, but there were still tons of words I had never heard before. You learn the language surprisingly fast when using it 24/7
Most of us have all heard of the language program Rosetta Stone, either from friends or from the commercials on TV. I did some research before writing this post and it doesn't seem like Danish is offered from Rosetta Stone anymore. Not sure if it is temporary or maybe they just didn't have enough sales to justify keeping it in their stock.
Well, the beauty of Google is that it gives you a ton of
other options. You can find any level of learning online when it comes to learning Danish. I have found one program that I will recommend, due to the fact it comes with a free program and a premium upgrade option.It is  also cheaper than it would be to purchase Rosetta Stone if you decide to upgrade at some point.
The program is called Danishclass101 and offers everything you need to be on your way to master the danish language.
DanishClass101.com – The Fastest Way to Learn Danish Guaranteed
What do I get with DanishClass101?
You get a lot! Most importantly, your Free Lifetime Account gives you access to all the newest Danish Audio and Video lessons for life. But there's a lot more at DanishClass101. Here's what you get for free:
A 7-Day Premium trial to experience the entire DanishClass101 learning system.
The first 3 lessons of every single series. Get a taste of what our series have to offer.
The most recent lessons from the past 3 weeks. Every new lesson released is yours free.
The Danish Word of the Day delivered directly to your inbox.
The Innovative Language 101 App for the Android, iPhone, and iPad for on-the-go learning.
The 100 Most Common Words List to get a head start on learning vocabulary.
Vocabulary and phrase lists for topics, themes, and holidays. Constantly updated!
Throwback Thursday lessons. Learn with a random lesson for free every Thursday.
Bonus resources and mobile apps in the Danish resources section.
For people who plan to spend an extended time in Denmark, they also offer a Premium Plus account, where you get access to a personal Danish teacher.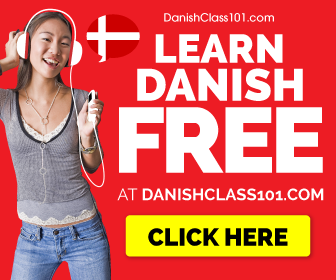 Like I said Danish is a hard language to learn, so for fun try out the free program even if you don't plan to ever use it, just to test your skills. Maybe you have someone in the family you want to challenge
Click on this YouTube clip to see a group of people trying to say one of the most difficult sentences in Danish. It will make you smile. For the record, the sentence they are trying to pronounce is a Danish dessert made of red summer berries such as redcurrant, blackcurrant, raspberries, strawberries, blackberries, bilberries and black cherries.  It is served hot or cold as a dessert with milk, a mixture of milk and vanilla sugar, vanilla sauce, (whipped) cream or custard to balance the taste of the fruit acids.
Other ways to learn Danish.
If you are not interested in taking on a language course to learn Danish, there are free apps for your smart phone you can use while visiting the country.  A lot of them are very limited in their dictionary and will rotate the same words over and over.
For your kids I recommend a fun little game that I have a  game on my smartphone. I use it to teach my son Danish besides speaking to him in Danish. The name of it is "Smart Speller Danish". It is a game that show pictures of plants, fruits and animals and you then have to arrange the letters to spell out the names of the items.
I look forward to hearing from anyone who has comments about this post. Also please feel free to ask any questions that pop up.
Sincerely,
Brian